Please read all information carefully, as how and when absentee ballots are counted has changed. Voters no longer have the ability to request an absentee ballot and then later change their mind and vote in person. Any questions should be directed to the Board of Elections by calling 845-334-5470, Monday through Friday 9am-5pm or emailing elections@co.ulster.ny.us
---
Application Request
To request an absentee ballot you may apply for one in any of the following ways:
Check the status of your absentee ballot request, poll site information, and sample ballots for upcoming elections
Mail your Application to:
Ulster County Board of Elections
79 Hurley Ave, Suite 112
Kingston, NY 12401
Email your completed application to: absentees@co.ulster.ny.us
If a voter chooses to vote by absentee, they should expect to receive a ballot with two envelopes, an inner oath envelope and an outer return envelope. Once the ballot is marked and placed in the inner envelope, it is critical that the voter sign, and date the inner absentee ballot envelope on the space provided and seal it. That is placed in the outer envelope, which has the Board's return mail information printed on it, and returned to the Board of Elections.
Military / Overseas Information
Additional Information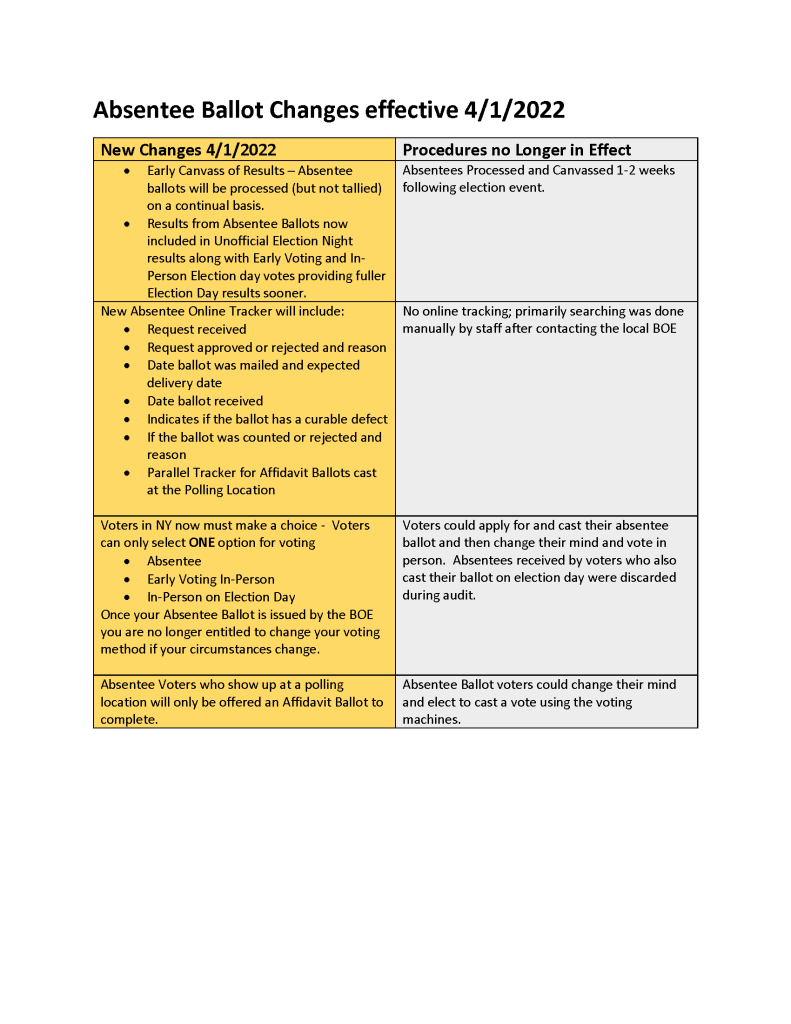 Absentee ballots must be requested. They will not automatically be mailed unless you apply using the reason "Permanent Illness"
For additional information email absentees@co.ulster.ny.us or call (845)334-5470
Eligibility
You may vote by absentee ballot if you will be:
unavoidably absent from your county on Election Day
unable to appear at the polls due to illness or disability
a patient in a Veterans' Administration Hospital
detained in jail awaiting Grand Jury action or confined in prison after conviction for an offense other than a felony
Unable to appear at the polls due to temporary or permanent illness or disability
Unable to appear because you are the primary care giver of one or more individuals who are ill or physically disabled.
Important Dates: 2023 Dates Coming Soon